Every girl needs a little black dress....
Today I made Mommy a pretty new dress. I put on a fluffy pink scarf from my dress up box, got my scissors and went to work. I watched "Sleeping Beauty" last week at Grandmas, so I kinda know how to make a dress. Anyway, how hard could it be?
Here is me hard at work: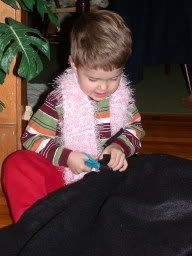 And here is the finished product! Mommy said she was impressed by my practical choice of fabric (felt) and the way my dress really does flatter every body type.