A post from Mommy..
Hello everyone, this is Sam's mom, just dropping in to post a quick update. As of late our every waking moment and topic of conversation has turned to...Star Wars. I guess I knew it was inevitable, it's just that by 6 o'clock or so I really don't have the mental capacity left in me to answer anymore questions about how EXACTLY a light saber works (which for those of you who took high school science lab know...it's impossible for a light saber to actually work as one does in Star Wars) or how it is that Obi Wan Kanobi could "melt" if he was real and had bones...and where did all his blood go...and why didn't his clothes melt too? Anyway, as you could guess this recent obsession has transferred over to Sam's artwork..which are now very busy, intricate stories filled with fire, light sabers, darth vader, ghosts, dragons, monsters, witches, ect....pretty gruesome stuff. Here's some examples: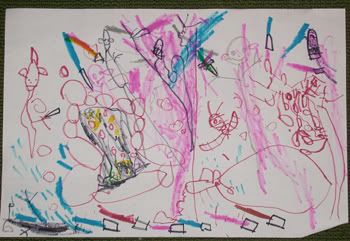 In case you couldn't tell, there is a total of about 27 light sabers between the two of them.
He did take a break and make this really sweet picture for my mom for her birthday though..It's a pink mommy and baby elephant picking flowers..which was a nice change from the recent carnage he's been spilling out into his drawings..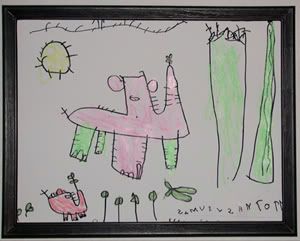 And..last but not least I had to include my Valentines Day card! The front of course had the usual Happy Valentines Day stuff, but the inside had something really special. Here's how he described it "This is Daddy (the man with the long arms and large ears) and he's watching Star Wars on TV, he's watching Luke Skywalker (the guy in the TV) BUT he's THINKING about Darth Vader so I drew this cloudy shape around him".....My baby's FIRST THOUGHT BUBBLE! What better a Valentines gift could I ask for!